COMMAND WEALTH MANAGEMENT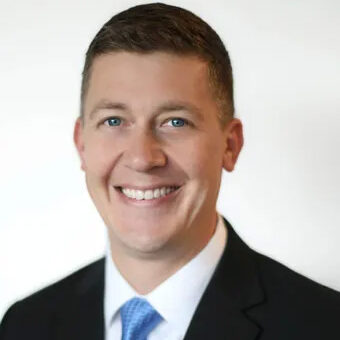 Growing up as the middle child and raised by a single mom, I saw first-hand the impact difficult money decisions can make on a family. Money was always tight in my family, and as I grew older, I quickly realized the stress that money can cause people. From an early age, I understood the differences between NEEDS and WANTS. If I wanted anything, I was going to have pay for it myself. As a result, I began working at 12 years of age, picking tobacco in Southwick and later holding two and even three jobs while in high school and college.
College was something I always knew I needed to accomplish if I was going to get ahead in life. The difficult part was figuring out how to pay for it. At that point, the service looked like the only option for me. I was fortunate to have my grandfather take me to each branch of service and provide me some guidance in helping me decide. When we went to the 104th Fighter Wing at Barnes Air National Guard Base in Westfield, Massachusetts, he told me this was the best deal of them all. I looked up to my grandfather, who served 22 years of active duty in the U.S. Air Force, retiring as a Major as well as a veteran of World War II and the Korean War. I took his advice and enlisted in the U.S. Air National Guard, a reserve component of the U.S. Air Force. In August of 1996, little did I know that when I raised my hand to swear to defend my country against all enemies that it would significantly impact the next 23 years of my life.
After 9/11, my patriotic commitment flourished. I was no longer in the military to pay for college. I felt responsible for defending my country and our way of life. In 2003 while deployed in support of OPERATION IRAQI FREEDOM, my hard work and dedication did not go unnoticed. I was strongly encouraged to apply for the next Aircraft Maintenance Officer opening.
After graduating from Westfield State University with a bachelor's degree in Business Administration, I applied for and was selected to be commissioned as an Aircraft Maintenance Officer in the United States Air Force in 2004. For the next 15 years, I wore two hats—financial planner as a civilian, military officer when called upon. At the end of 2019, I retired with the rank of Major and as the Maintenance Squadron Commander in the 104th Fighter Wing. The leadership skills developed in the military absolutely transferred into my civilian career. The Air Force core values of "integrity first, service before self and excellence in all you do" are the principles of everything I do every day.
I was fortunate to have my uncle and godfather bring me to New England Financial Group, an affiliate of MetLife in 2005. He was instrumental in mentoring me and still does today.
In 2014, I completed the extensive education and examination requirements to be named a CERTIFIED FINANCIAL PLANNER™ or CFP® professional. Held to a higher fiduciary standard, the elite CFP® certification represents a high level of competency, ethics, and professionalism. I proudly maintain this standard of excellence that provides my clients with the assurance of comprehensive and holistic financial planning. 
In 2016, I joined Pioneer Valley Financial Group, as their first CFP® professional. PV Financial Group was part of Commonwealth Financial Network®, an independent broker/dealer. That independence was something I was looking for and to be able to provide my clients. Having an open architecture platform, free from proprietary products, provided my clients with confidence that I was always looking for what best fits their needs and not what is best for the shareholders. 
In 2020, I started Command Wealth Management. My goal in creating my own practice is to be able to provide my clients with the products and services that align with their unique needs. I have partnered with Cambridge Investment Research, Inc., an independent broker/dealer where I am a Registered Representative. They provide me with the tools and resources to support my client's goals and objectives.
As a former Commander, I know what is required to lead. Our intentions are to help you "take command of your financial future" by making a smart decision about money. As a financial planner, we take the lead in guiding you through the financial planning process. Financial Planning is a collaborative process that helps maximize a Client's potential for meeting life goals through Financial Advice that integrates relevant elements of the Client's personal and financial circumstances.
Outside of work, you can find me with my wife Cristina chasing after our children, Jake and Lyla. Cristina is the youngest daughter of three, to immigrant parents from Portugal. She saw first-hand how hard her parents worked to provide a better life for her and her sisters. Cristina has applied this same work ethic as a science teacher in the Palmer School System for the last 15+ years. These principles, along with the Air Force's core values, permeate throughout the Tatlock household, including instilling healthy habits and a strong moral character in our children.
Surrounded by my family and friends, I try hard to find a healthy balance between work and play. I enjoy playing golf, being a sports enthusiast, listening to music, and, most importantly, being a great father and supporting husband. Understanding first-hand the difficulties military members face when called upon provides me a unique perspective to help these families plan for their future. I invite you to call us and share your story, and perhaps see how we can help you "Take Command of Your Financial Future."
LET'S TALK!
Give us a call and get started with your financial goals.